Game of Thrones renewed for two more seasons!
What a joy, but really not much of a surprise. Given how well received the show has been for four consecutive years, by both critics and fans alike, cancelling it would be the biggest faux-pas in the history of television. (I might be overreacting, but I might also be right). Announced by HBO's Game of Thrones official Twitter account, the news has already circled the globe, more than once, I'm sure.
With more novels to draw from, the series won't ever become stale or dull, and given George R.R. Martin's penchant for killing beloved characters, the flow of tears, the cries of anguish and the raging fits of fans old and new won't cease for quite a while to come. I'm thinking each death increases the therapy bills for at least half of the fandom. And lucky for our therapists, we've got two more years of awesome sass, incredible wit and high levels of emotional torment to go thorough. Who wants to bet that they'll announce series 7 next year? I still have some Monopoly dollars I could easily part with.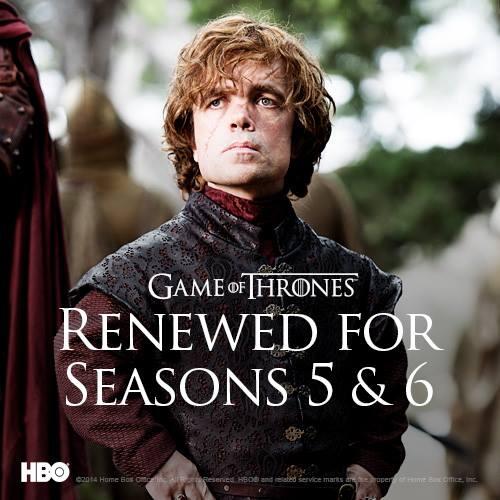 Now, tell us how does this make you feel?
Comments
comments