It would not be an exaggeration to say that we're currently in the golden age of television. What was once viewed as a lesser, secondary entertainment form is now a legitimate choice for actors wanting to express themselves. From Mad Men, to The Walking Dead, to Game of Thrones, there has never been such a glut of quality television for people to pick from.
And yet, you're apparently all missing the best show of all: NBC's Hannibal.
I say apparently after the recent announcement from NBC that Hannibal, which has been competing with shows like The Walking Dead in the early Spring line-up, has been delayed until the summer. Primarily to avoid the clash with major shows like Game of Thrones.
But Hannibal is brilliant, absolutely brilliant. Even better than the current ratings winners. And here's why:
VISUALS
The absolute standout feature of Bryan Fuller's series is the art direction. Hannibal really concentrates on trying to capture the distorted mindsets of the killers. Will Graham's struggles with his extreme empathy problems, being in the mindset of someone who will kill in the most horrible of ways, and Fuller's direction conveys that brilliantly. As madness creeps into Will's life, we are shown incredible shots of stags, of people Will has killed or been unable to help.
On top of this, you get to see some incredibly horrible visuals of murder and violence. From totems made of corpses to actually showing a Venetian Necktie (don't look it up), the serial killers are given incredible range and show us nightmares in each episode. I mean, just look at this trailer for the first season. Look at it! It's beautiful, real art. Of all the shows on TV at the moment, none of them has the consistent quality in its visual metaphors and gorgeous shots.
PERFORMANCES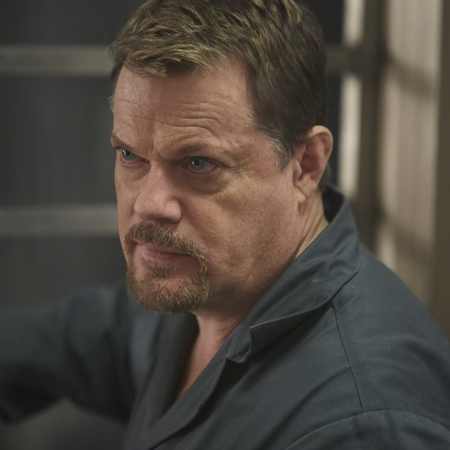 This is a TV show with Laurence Fishburne, Gillian Anderson and the incredible Hugh Dancy, so it is not short of big names who bring their A-games to their roles, but Hannibal also has Mads Mikkelsen playing a Hannibal Lecter worthy of replacing Anthony Hopkins from the brilliant movies. Mads is so composed, and so clipped, in his delivery, and actually has the slight accent of someone who escaped war-torn Europe during the Second World War.
Aside from these stellar characters, a special mention has to be made for comedian Eddie Izzard, who does an incredible job of playing a medically trained psychopath. After the first few minutes of seeing him and saying to yourself, "But that's Eddie Izzard?", you'll completely forget everything else he's done. A stunning turn from everyone's favourite Action Transvestite.
PLOT
One would think that a series based on an iconic serial killer, whose backstory is likely more well known than Iron Man's was pre-RDJ, wouldn't have much room to play with its plot, but Hannibal is impeccably written. Tense and taut, it keeps some elements of a 'killer of the week' show whilst weaving in the underlying tension between the audience's knowledge of who and what Hannibal Lecter is and his helping to hunt the 'Chesapeake Ripper' the press have invented for his crimes.
Beyond that, the show has been willing to take risks by stepping out of the established canon. We meet the horrific Mason Verger earlier than I would have expected, and the end of season 2 really plays with your expectations. I'll say nothing more, to avoid spoiling it, but Hannibal will surprise you as much as it will disgust you.
PRO-VEGETARIAN STANCE
If you can watch Hannibal cook and not be put off your meat, you're a stronger person than I.
Hannibal is slick, smart, disturbing, and brilliant. Season 3 is coming out in the summer, and I write this a little in the hope that people will start to support the series and ensure we eventually get to meet Clarice. So, between then and now, when you see Hannibal on a streaming service, or a DVD or Blu-Ray of the previous seasons on sale, you need to ask yourself… Why aren't I watching Hannibal?
Are you watching Hannibal? Share your thoughts on the show in the comments below and let us know if there's anything you think more people should be watching!